Trojans made for blackmailing, also known as "Ransomware", are the newest threat of cybercriminals. This software, once on your computer, encrypts your private files and presses money from you to get the decryption key.
Scrutiny is advanced AI-Driven Real-Time Ransomware Detection sensor that helps defend against the full scope of known and unknown zero-day malware which populates ransomware.
While especially new Ransomware doesn't get recognized correctly by many endpoint security applications in time, Scrutiny sensor has a Multi-Stage Detection and background guard that uses sophisticated algorithms to detect the Ransomware behavior patterns and Emergency routine is started to stop the running encryption and to give you valuable information on how to deal with the malware.
Our scan enables you to identify file names, file hash, IOCs, metadata, file format structural properties, file size, detection, PE data, etc. and help to monitors running processes, such as registry key modification, file read/write / encryption action, and stops ransomware activity in its tracks in a few seconds.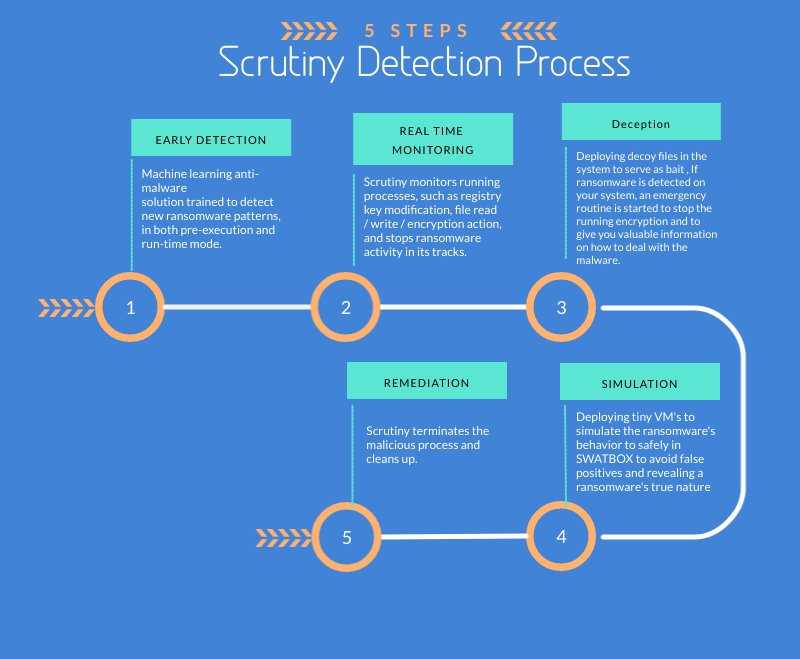 Plethora of unqiue features makes our Scrutiny Sensor completely different from traditional anti-ransomware solutions:
Ransomware detection is powered by a multi-stage self Learning model without any reliance on signatures or centralized database and guarding your files in the background utilizing cutting-edge "Crypto Caging" methodology.
Multi-layered protection against the latest threats and ransomware
Certified scalable technology and cross platform support
Cloud-delivered real-time threat Intel and private scanning via on-premise offering
Agentless lightweight sensor solution compatible with all antiviruses and seemingly simple to use
Our Sensors provide industry-leading protection against malware threats and can be easily integrated via a set of libraries providing access to the Scrutiny engine. It can be further customized for enhanced detection of web or email traffic and extended into SIEM, TIP, and SOAR platforms, to detect ransomware, advanced persistent threats (APTs) as well as classify unknown files. The technology is used in the OEM cybersecurity foundation for a wide range of hardware and software security products and solutions.
We support a wide range of security use cases and SOC integration scenarios
Gateway/network edge devices, firewalls, UTMs, NGFWs
Web and messaging security services and solutions
Network attached storage, backup, disaster recovery solutions
Multi-scanner integration with platforms proividng a positive and high detection throughput.
Offline Sensor
Private Cloud Platform
SDK
Interested ? Fill in the form to download the product datasheet