Traditional sandboxes just waste time
Existing sandboxes are often slow and ineffective, failing to provide adequate protection against advanced threats. They consume significant amounts of time and resources, which can cause delays in identifying and mitigating security risks. Additionally, as attackers continue to develop new and sophisticated techniques, traditional sandboxes struggle to keep up with the evolving threat landscape. As a result, businesses need to look for more advanced and efficient solutions to protect against modern cyber threats.
 In today's evolving threat landscape, traditional sandboxes fall short in detecting advanced threats, wasting time, and resources: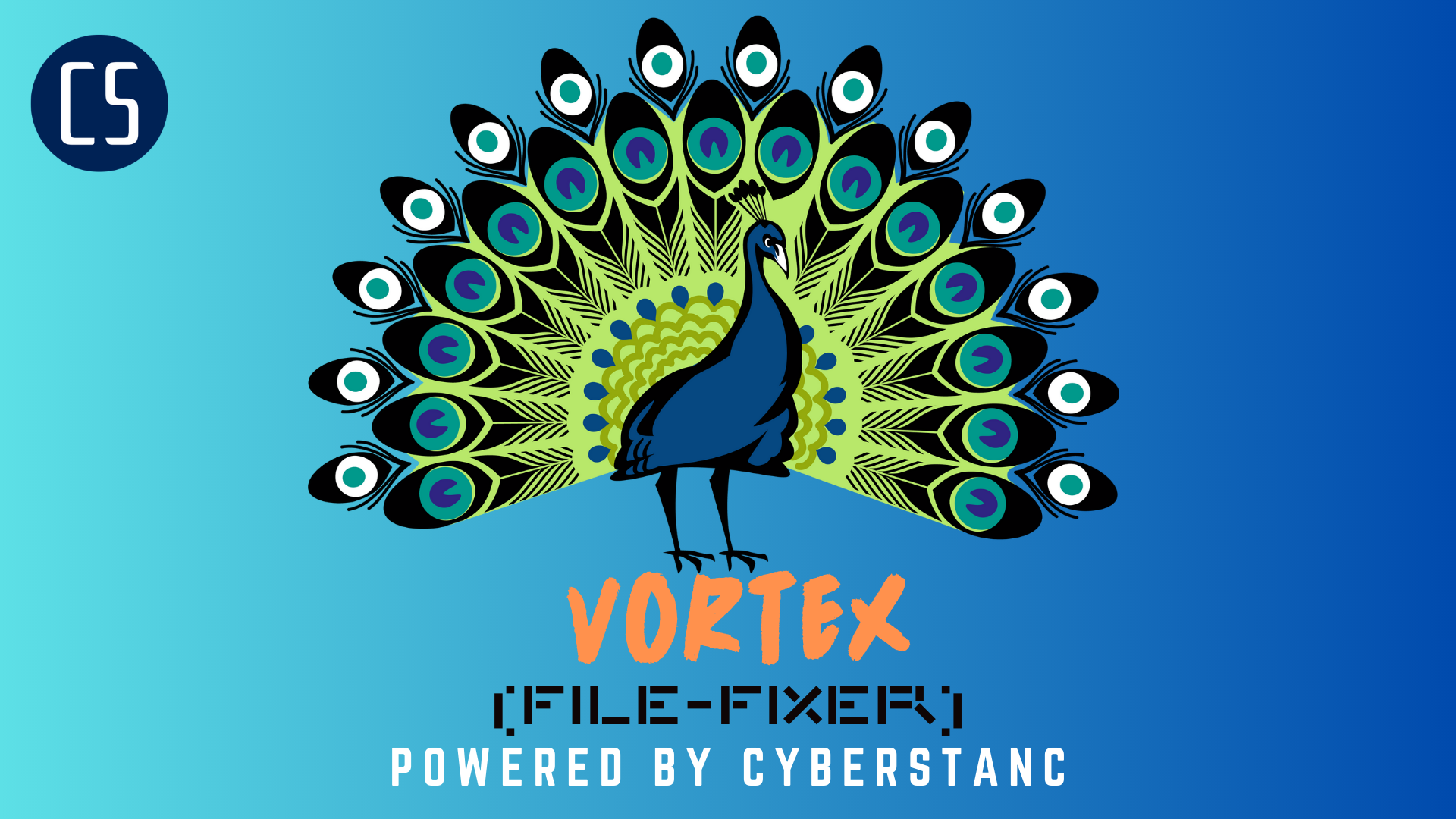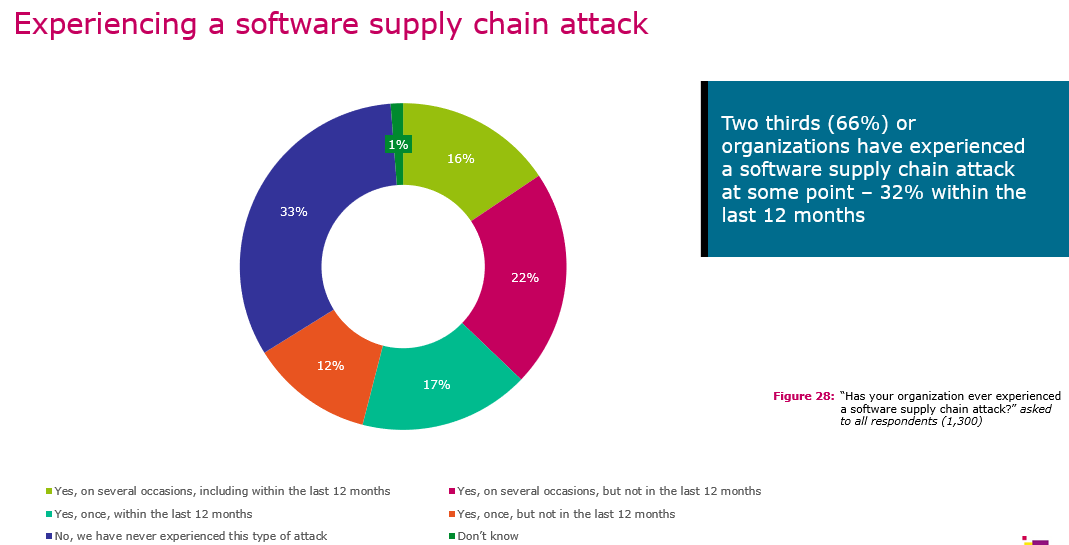 Supply chain compromise is on the rise
With the rise of cyber attacks and supply-chain attacks, businesses are increasingly investing in advanced protection to safeguard against malware and other advanced threats. . Thus, investing in advanced protection solutions is critical for businesses to enhance their overall protection capabilities.

Traditional cybersecurity solutions often fail to detect supply chain attacks because they focus on protecting the perimeter of the network and endpoints from external threats. However, supply chain attacks are initiated by compromising trusted vendors, suppliers, or partners, which allows attackers to bypass traditional security measures. These types of attacks are often difficult to detect as they occur within trusted networks, making it challenging for traditional solutions to identify and prevent them. Additionally, supply chain attacks can remain undetected for extended periods, allowing attackers to move laterally within a network and exfiltrate sensitive data unnoticed.
Supply chain compromise is on the rise
of organizations have experienced security incidents caused by supply chain weaknesses
of security incidents and data breaches involved stolen credentials
increase in stolen credentials in the last five years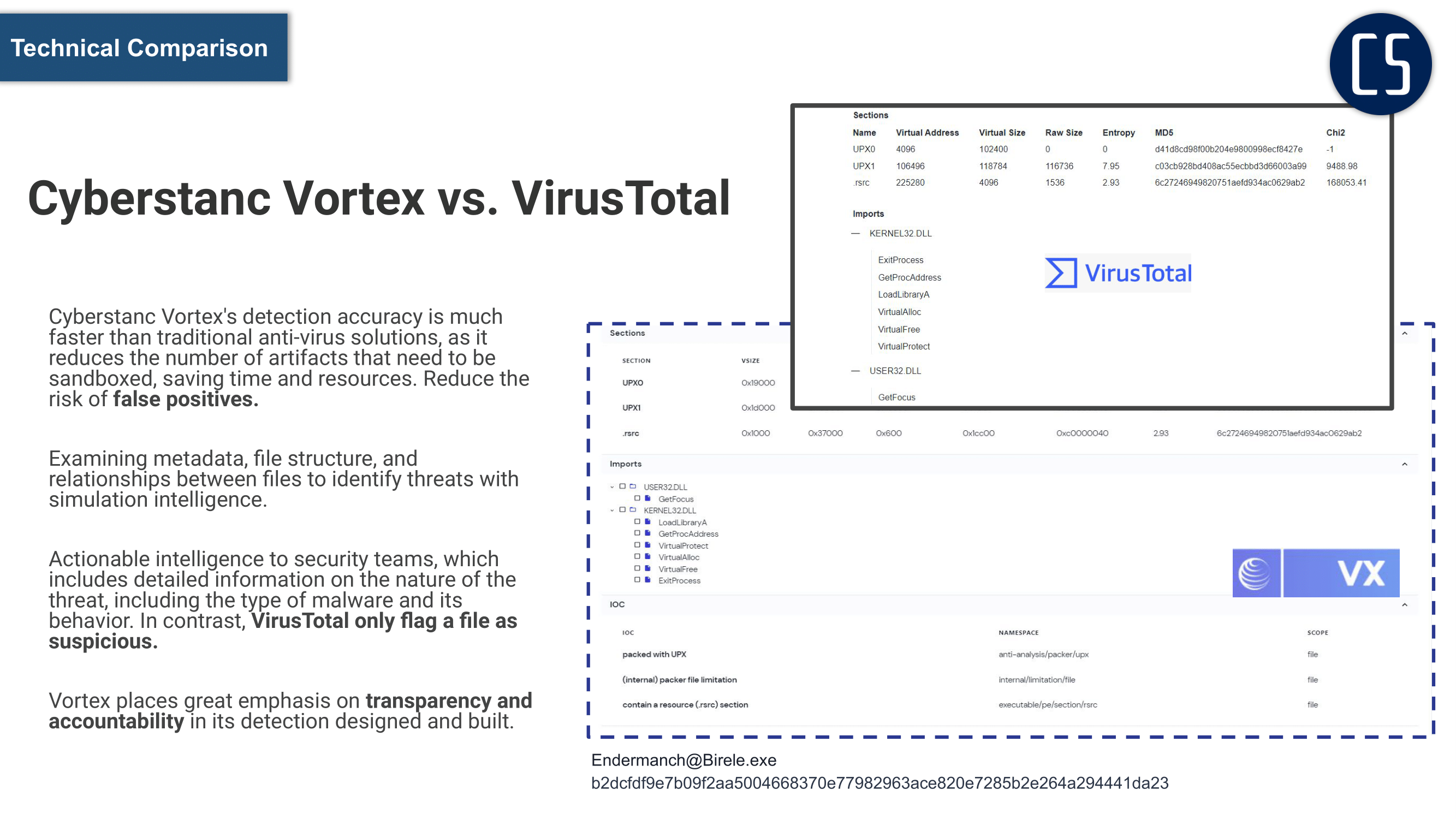 Simulate malware detection with cross validation
Traditional malware detection solutions often rely on static signatures or behavioral analysis to identify malicious files. However, with the increasing sophistication of cyber threats, these methods have proven to be inadequate in detecting advanced malware.
In-depth cross-simulation, on the other hand, is a new approach to malware detection that involves the repeated simulation of malware samples in a controlled environment. By simulating the behavior of malware in different scenarios, this method can identify patterns and characteristics that are unique to malicious code, making it possible to detect even the most advanced threats.
Unlike traditional solutions, which rely on pre-defined signatures or known behaviors, in-depth cross-simulation can identify new and unknown malware. Moreover, by simulating malware in different scenarios, such as in a virtualized environment or on different operating systems, this method can provide a more comprehensive understanding of the behavior and capabilities of malware.
Overall, in-depth cross-simulation represents a significant advancement in malware detection, providing a more effective and efficient way to identify and mitigate cyber threats.
All in one platform with file simulation, AI-powered threat prevention and file sanitization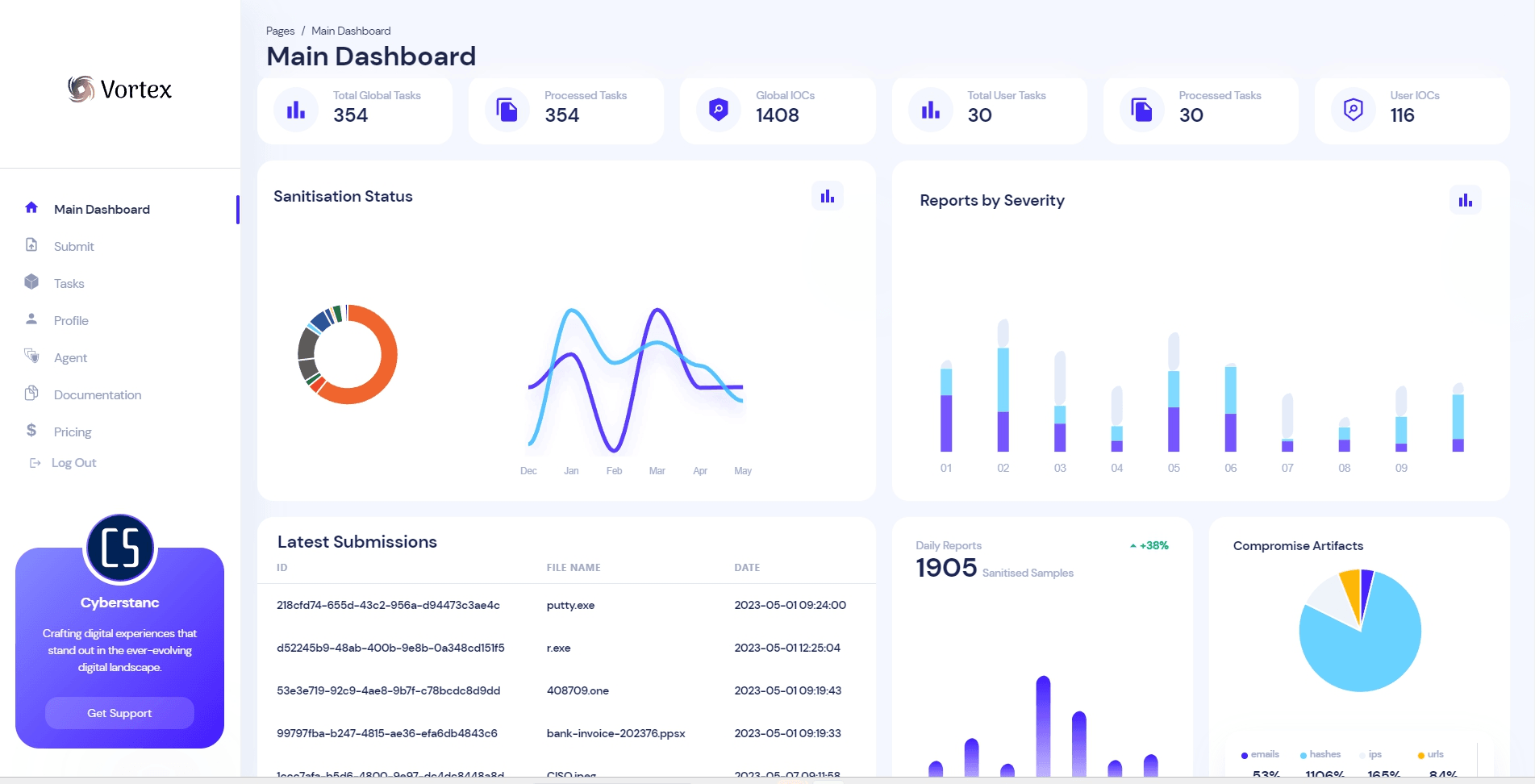 Break through the limitations of traditional security with Vortex
Cyberstanc Vortex is designed to enhance the existing frameworks, tools, and techniques for secure data transfer between secure networks. By utilizing Simulation Intelligence and Signature-less detection capabilities, it aims to bridge the gaps and overcome limitations present in current solutions. With its unique "Report, Remove, and Sanitize" feature, Cyberstanc Vortex provides comprehensive protection and ensures the secure transfer of data.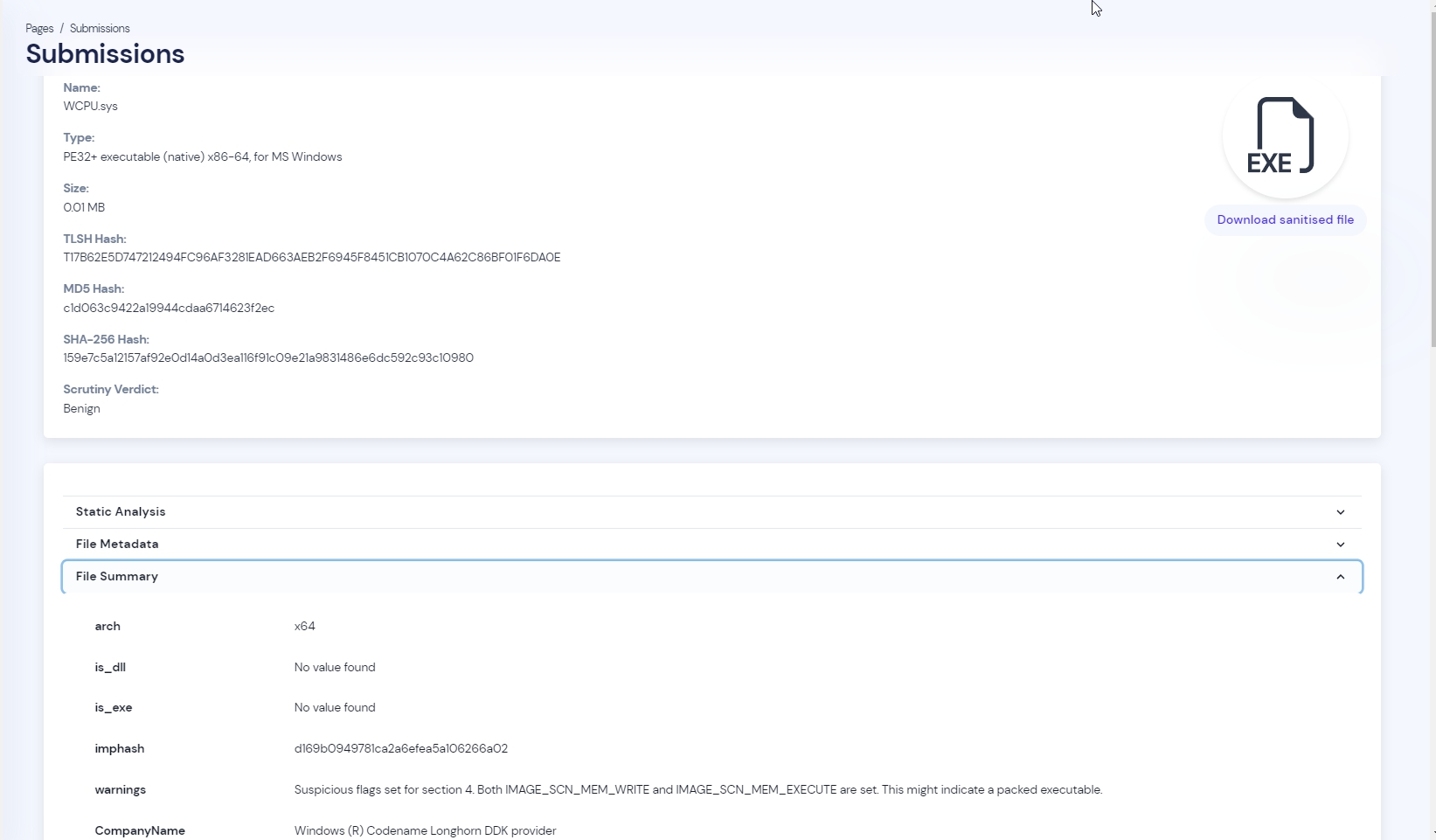 State of the art detection
The Cyberstanc Vortex platform offers a technical demo showcasing its easy API integration and agent-based use cases for endpoint, network, email, and storage protection. Its state-of-the-art threat detection system covers most of the grey areas that attackers target or plan to exploit in the future.
Unleash the full potential of your data with Vortex the ultimate solution for secure and streamlined file sharing, collaboration, and storage
Ready to secure your future ?