Revolutionizing Cybersecurity Together: The Unstoppable Partnership of Cyberstanc and Polyswarm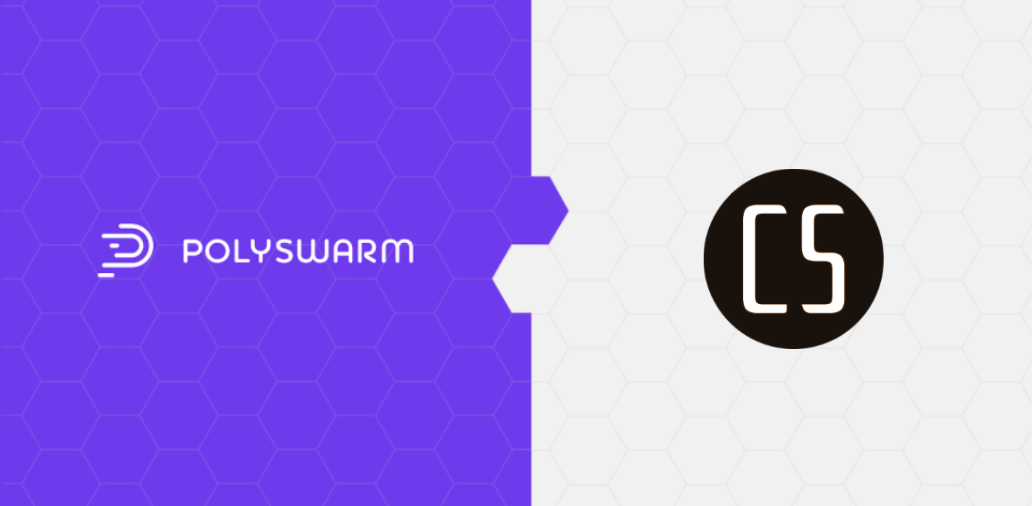 Welcome to the future of cybersecurity!
Cyberstanc is proud to announce our partnership with Polyswarm, a leading innovator in the field of fully crowd-sourced malware detection. Together, we are on a mission to revolutionize the way the industry approaches cybersecurity.
At Cyberstanc, we believe in constantly innovating to address the latest challenges, and we are thrilled to work alongside Polyswarm to deliver a benchmark cybersecurity posture for the community.
Oct 29, 2020
"We welcome Cyberstanc as a new participant in PolySwarm's marketplace. We strive to bring specialized engines that contribute to the ecosystem, and Cyberstanc's scanner brings unique insight into Indian based malware and the actors behind them" stated Steve Bassi, CEO of PolySwarm.
April 5, 2022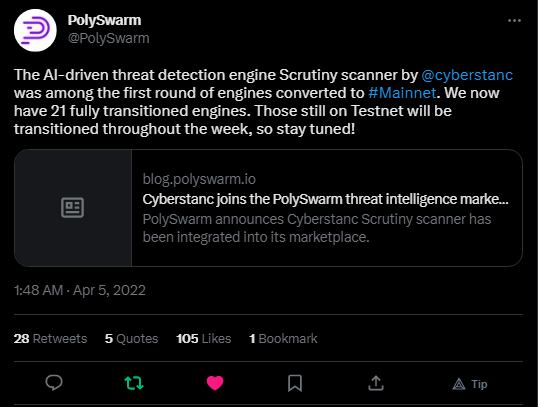 Mar 22, 2023
"We are excited to promote Cyberstanc as the next Arbiter in the PolySwarm Marketplace. The Cyberstanc Engine has proven itself in the PolySwarm Marketplace to be reliable and accurate for the past 2.5 years. Their unique malware detection and threat intelligence insights will continue to support PolySwarm's crowdsourced ecosystem of innovative anti-malware engines in their fight against malware." - Steve Bassi, CEO of PolySwarm.
Join us on this exciting journey towards enhanced cybersecurity!
The digital landscape is constantly evolving and with it, the ever-growing number of cybersecurity threats. To tackle this, cybersecurity companies are stepping up their game by developing new and innovative solutions.
In a bid to enhance their efforts, Cyberstanc, an AI technology-driven cybersecurity company, has teamed up with Polyswarm, a blockchain-backed marketplace for cyberthreats, to collaborate into a fully crowdsourced malware detection platform.
This partnership aims to deliver a benchmark cybersecurity posture for the community, and in this blog post, we'll take a closer look at how this partnership is set to revolutionize the cybersecurity industry
Polyswarm Marketplace:
Polyswarm aims to encourage collaboration between anti-malware engine experts through a neutral cryptocurrency. The core of their approach is a marketplace for cyberthreats where active security experts who discover viruses, hacks, malware or other dangerous software can publicize this knowledge and be funded by the community. The marketplace uses an ERC-20 compatible cryptocurrency called "nectar".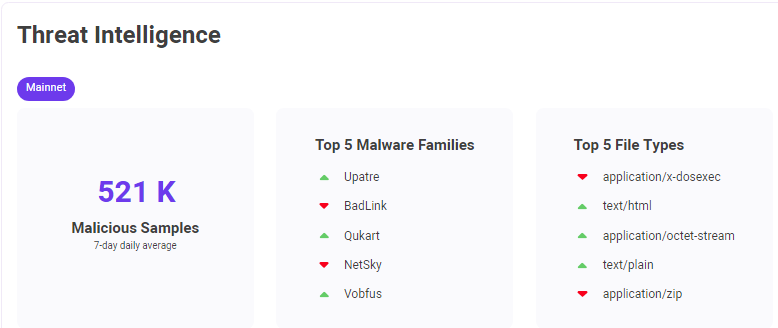 Cyberstanc's Role as an Arbiter:
Cyberstanc has earned the role of Arbiter on the PolySwarm marketplace. Their new role within the platform will be to arbitrate on engine determinations to establish 'ground truth,' which means making a final decision on the maliciousness of submitted samples 2 to 3 weeks after first being scanned. The verdict of the Arbiters will form what is called the Ground Truth, a final decision on the intent of a sample.
Cyberstanc's engine Integration into Polyswarm:
Scrutiny's hybrid approach to detection involving static and behavioral analysis, supported by kernel-mode heuristics, ensures that businesses are equipped with the most accurate and effective verdicts in the fight against cyber threats.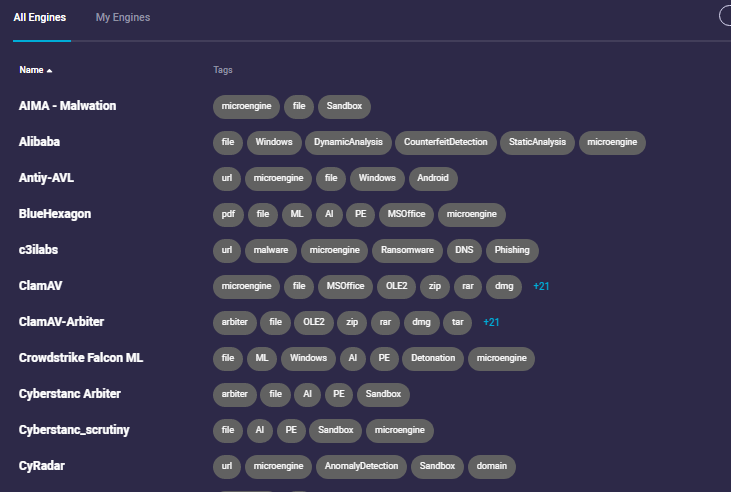 Benefits of the Cyberstanc and Polyswarm Collaboration:
Firstly, the collaboration will provide customers with a rapid response to new and evasive threats.
Secondly, Cyberstanc's reliable threat detection engine will enable it to make final decisions on tracking APT groups and detecting new malware.
Thirdly, the partnership will democratize malware intelligence by compensating both the researcher-based malware engines and ongoing sources of new malware samples.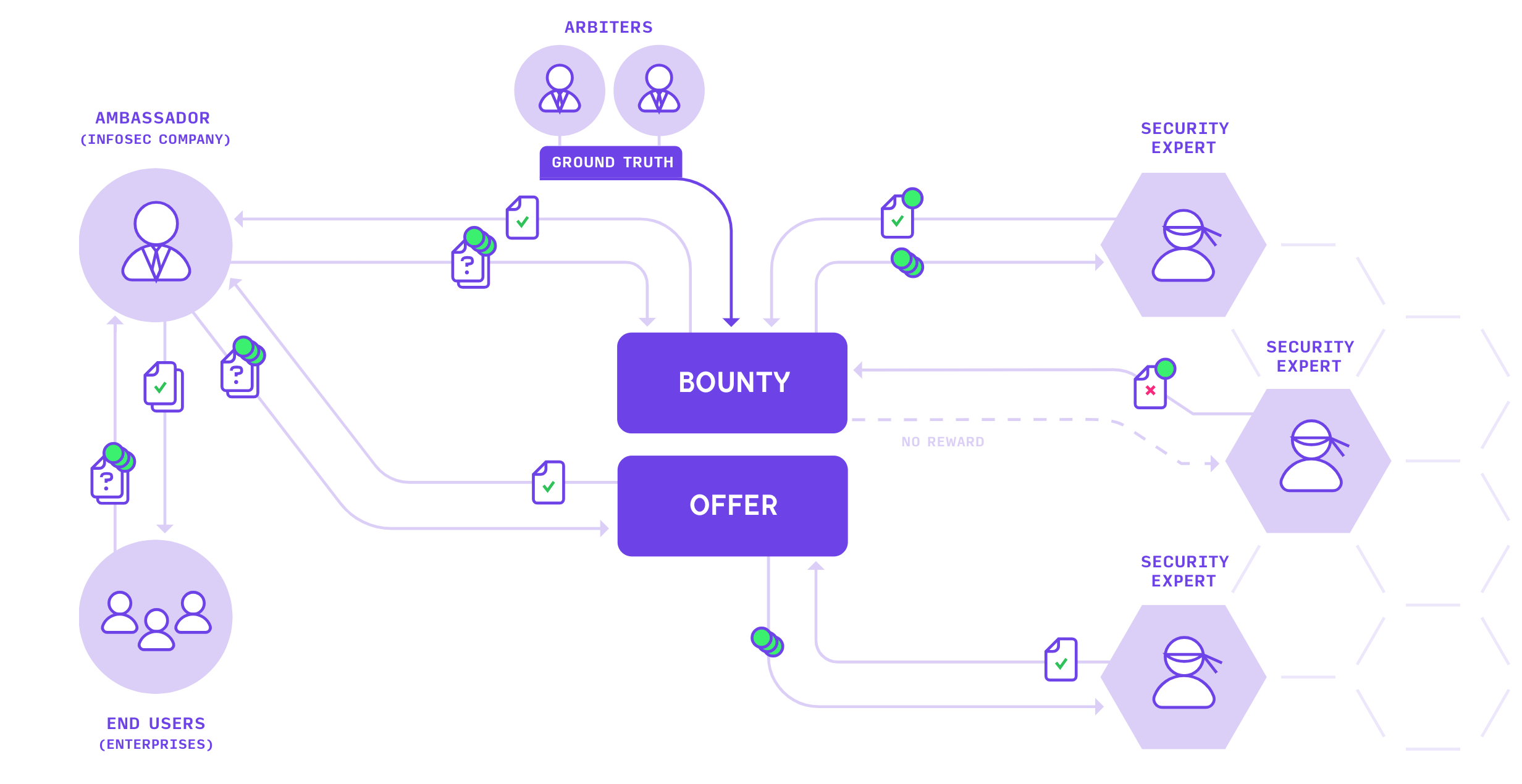 Leading the Charge in Crowdsourced Malware Detection
At its core, cyberstanc detection is all about identifying patterns and behaviors that are indicative of cyber threats. This can include everything from unusual network traffic to suspicious attempts, and can be used to flag potential threats before they have a chance to do any damage.
One of the key benefits of cyberstanc detection is its ability to detect zero-day vulnerabilities with confidence. These are vulnerabilities that are unknown to the public and therefore not yet patched, making them particularly dangerous.
Using Metasearch Queries for Malicious Content Detection with Cyberstanc Scrutiny
By using advanced analytics and machine learning algorithms, cyberstanc detection can identify patterns of behavior that are indicative of zero-day attacks, giving security teams an early warning and time to take action.
scan.latest_scan.Cyberstanc_scrutiny.assertion:malicious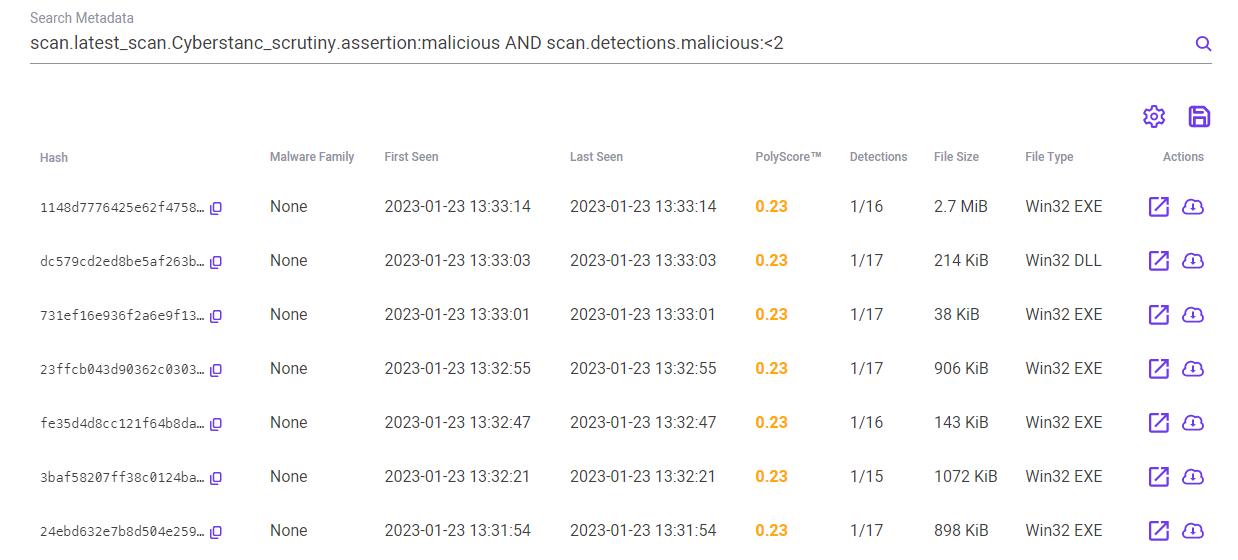 Overall, there is much to be proud of when it comes to the scrutiny-killing detection and efficiency of integration offered by cyberstanc detection.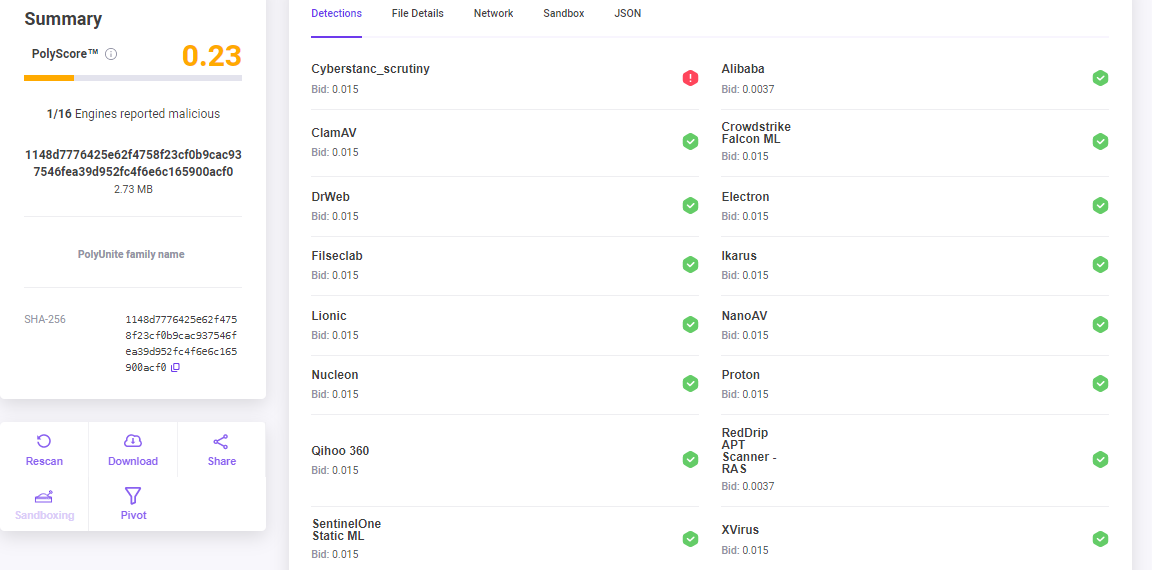 CyberStanc's Advanced Detection Engine: Enhancing Security for OEMs and Collaborators
As a team at CyberStanc, we are proud of the engine we have developed and the results we have achieved. We believe that our technology can be of great value to other Original Equipment Manufacturers (OEMs) and collaborators who are looking to enhance the security of their products and services.
Therefore, we invite all interested parties to consider using our engine and incorporating it into their own products and services. By doing so, they will have access to the cutting-edge technology we have developed and can benefit from the superior security that our engine provides.
We believe that collaboration is key to making the digital world a safer place, and we are committed to working with other companies and organizations to achieve this goal.
We welcome the opportunity to discuss how our engine can be integrated into other products and services, and we are excited about the potential impact that this collaboration can have on improving cybersecurity worldwide.
If you are interested in learning more about our engine or would like to discuss potential collaboration opportunities, please do not hesitate to contact us. We look forward to hearing from you and working together to create a safer digital future.
Contact us today at:-
🚨 💻🔐

[email protected]

🚨 💻🔐
"https://blog.polyswarm.io/cyberstanc-joins-the-polyswarm-threat-intelligence-marketplace"
"https://blog.polyswarm.io/cyberstanc-joins-polyswarms-marketplace-as-an-arbiter"