OPSWAT collaboration with CyberStanc
Our partnership with OPSWAT begins in November 2021 after qualifying all anti-malware standard and recursive testing by OPSWAT engine-integration team. We become one of the MetaDefender Core Engine Suppliers like Microsoft Defender, Crowdstrike, McAfee, Sophos and more. OPSWAT is a company that protects the infrastructure from critical damages such as eliminating malware and zero-day attacks. They provide industry-leading cybersecurity products, to solve the challenges faced by modern enterprises from major attack vectors, that is why 98% of U.S. nuclear power facilities trust OPSWAT for cybersecurity and compliances.

OPSWAT's multi-scanning technology works to improve the detection of outbreaks by using a variety of engines from different geographical locations and by using a mix of both heuristic and signature-based detection. Heuristic analysis is especially useful for detecting new or unknown threats that emerge at the beginning of an outbreak.
To measure detection rates for different packages, OPSWAT looked at the anti-malware engine(s) that first detected the outbreak and then matched that detection with the package that contained the engine(s).

Cyberstanc has integrated a Scrutiny scanner into OPSWAT Metascan that enhances the multi-scanning capabilities of  MetaDefender.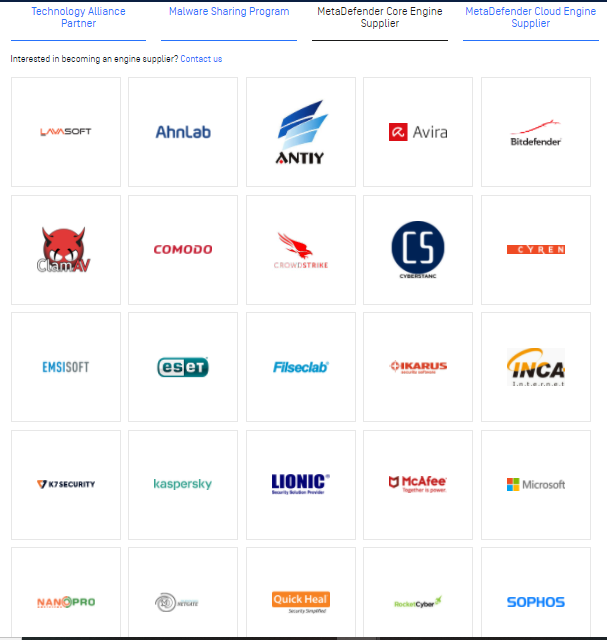 Highlights!!
Scrutiny engine is 33 engines onboarded in the metalcore platform and  5th Artificial intelligence(AI) engine with customized specialization of detection of malware which propagates ransomware.
We also partnered with OPSWAT for "OEM Malware sharing program"  API-based malware sharing program and false-positive reporting.
Opswat enlisted as a trusted vendor in all 3 alphabet US governments like NSA, FBI, CIA, DOD, and more while 60% of U.S. manufacturing power and critical infrastructures facilities trust OPSWAT for its metacore platform with 1000+ customer base.
Cyberstanc provides a self-learning engine,  It has an endpoint detection and protection platform powered by a unique crypto caging methodology assisting to defend against known and unknown ransomware
Cyberstanc cyber threat intelligence integrated work with R&D center to examine sample and continously working with product upgrade and update with Opswat Development Team.
Cyberstanc emulates ransomware techniques used by different ransomware groups and provides an extra detection methodlogies on operations and tactics.

MetaDefender Platform Organizations have the problem of tracking and protecting all data transmission channels that pose a security risk, especially large corporations with thousands of employees and contractors. Data transfer channels, such as file uploads, portable media tools, and email attachments, all have the potential to handle targeted attacks that could damage the organization's reputation, financial standing, customer relationships, and critical infrastructure, critical resources, and the facility itself.
With our cutting-edge products, we strive to participate in technology collaborations with OPSWAT!!


Prevent Zero-Day Attacks and Evasive Malware Intensive CDR works very well in preventing targeted attacks, ransomware, and other known and unknown malware threats.
Highest Threat Detection with Multi Scanning MetaDefender customers can simultaneously use the combined threat-protection capabilities of more than 33 anti-malware programs using both heuristic signature/scanner and machine learning capabilities.
Two notable values of multi-scanning with scrutiny sensors:
Increased Detection Rates
Faster detection of malware outbreaks
WEBLINKS:-
https://www.opswat.com/partners/technology/metadefender-core-engine-supplier
https://www.opswat.com/partners/cyberstanc
Some notable detections with signature less approach !!
DAXIN MALWARE- Targeting US critical Infrastructure
STOP RANSOMWARE - Intelligence and Detection via crypto-caging
SCRUTINY DETECT FIRST - ZERO DAY MALWARE