While it is easy to think of large scale organizations as prime targets for cyber criminals, the truth is that companies of all sizes be it large or small are constantly under threat.
A sequence of events that an attacker goes through five distinct stages: reconnaissance, incursion, discovery, capture, and exfiltration—each uses different tools and techniques. The good news is that blocking just one stage in this lifecycle is all that is needed to protect a company's network.
Asterbox is a self-learning platform that enables an organization to simulate threats ranging from APT malware techniques to ransomware and simultaneously suggest defense tactics in order to mitigate the same.
The essence of Asterbox's utilization
Elusive and sought-after questions in enterprise security, like:
How secure are we against Ransomware attacks?
Are we scanning, monitoring and alerting on malicious files?
If we got hit with a targeted attack today, would our team see it?
Could we respond to a threat quickly enough to make a difference?
Could we contain and clean up the malware threat effectively?
Performance and efficiency of the security solutions we are already utilizing?
Intelligent and Self learning Platform

In-house, we scan more than millions of files per month, till now we have aggregated over 10 million ransomware-based indicators and thousands plus TTPs used in ransomware campaigns, and the platform cumulatively classifies techniques based on Ransomware families.

Integration and upgrading security controls

Our findings help an organization with prevention and detection technologies like SIEM, SOAR, TIP, endpoint, network security device, and other controls to share and work around relevant context to create optimum solutions with continuous validation and testing.

Empowering Security Teams

Asterbox provides hands-on control for executive management with detailed reports which are much appreciated by CTO and CISOs. Assists organizations to stay one step ahead of cyber-attacks with on-demand simulations delivering immediate results, providing a full picture of the company's security posture 24X7.

Technology Alliance Ecosystem

Cyberstanc state of art cyber-threat intelligence service integrates with a combination of OEMs, Collaboration partners, alliance threat providers, community research to examine newest ransomware samples.
Test and examine scans the changes in the threat landscape by collecting and processing threat intelligence from numerous sources, including commercial and open-source threat intelligence services, blogs, white papers of security vendors and researchers social media, malware sandboxes, and forums:
Endpoint Security Our platforms can check if malware — including viruses, Ransomware — can exist and execute on workstations. This allows you to verify whether your endpoint security solutions (such as EDR, EPP, AV, and NGAV) can detect and prevent the spread of malicious code within your network.
Web Security Our tests can check if malicious domains and files can bypass web security filters and download on your network.
Email Defenses Our tests are designed to evaluate your organization's email security and potential exposure to several malicious payloads sent to test email filters.
Perimeter Devices Our tests are designed to evaluate the firewall can detect incoming malicious traffic.
Internal Network Our platforms simulate scenarios designed to test Blue Team detections and SIEM correlation rules.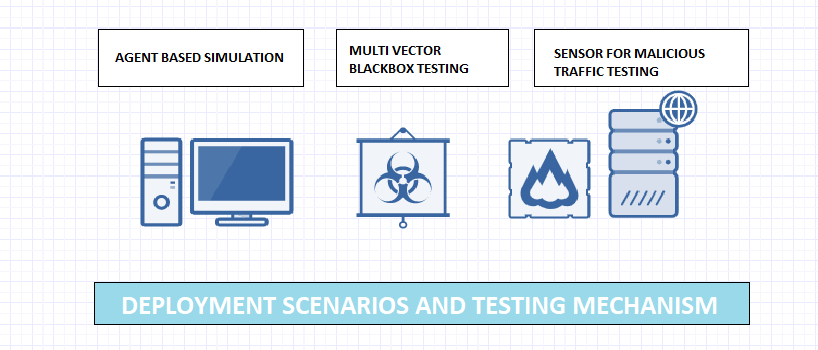 Interested ? Send us a malware sample of your own choice
Compress the sample of your choosing into a zip/rar format